Well, the time has officially come and gone, we're finally married!
Kir mentioned in her last post that I would fill in some details from the bachelor party, so let's start there and work our way forward: My brother Phil, who also served as my best man, threw an awesome stag party in the lounge of his firehall back in my hometown of Wheatfield. It was a ton of fun with some games, a generous buffet of food, door prizes (liquor), some raffles (more liquor) and an open bar (even more liquor). Phil knew I wanted the party to be low-key, so, it was a nice quiet affair with lots of old friends I haven't seen in too long, family and friends of the family. Our friend Haroon even made the trip up from Philly to surprise me at the party.
After that, it was 3 weeks of last-minute planning leading up to the wedding. We met with the people at our venue, planned out details with our DJ and photographer, finalized the ceremony with our officiant, and took a few dance lessons.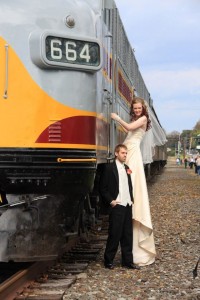 The wedding day is still kind of a blur. It was a long day of photos and talking with people, but it was so much fun and it just flew by. We started the craziness around noon with photos with the F3 locomotives that we helped restore and paint, they were on an excursion from Scranton to Stroudsburg and we couldn't resist the ultra-cool photo opportunity. Then we got the bridal party in on the photography fun and walked all around the canal area in Easton. We are really looking forward to how these photos turned out!
After that, we headed to the venue where I spent the remaining hour rehearsing the vows I had finished only about 12 hours earlier, and being a little freaked out about the ceremony…I'm not used to being the center of attention. However, the ceremony went awesome. Dana, our officiant, delivered the ceremony beautifully, and our friend Heather did a great job with the reading.
Of course our ceremony was a little un-traditional, even including a robot ring bearer, but, it was us, and that was what we wanted.
Dinner was delicious, the cake was beautiful, our friends kept the dancefloor hoppin' and we had a great time visiting with all of the friends and family that joined us for our special day.
We also premiered a slideshow/video documenting our relationship at the cocktail hour, which you can watch below:
After all the partying was done, we headed off to our honeymoon in Southern Utah starting on Sunday. Our first stop was Zion National Park where we hiked to see all that the beautiful scenery that the canyon had to offer. We stayed in a wonderfully private cabin in a ranch just east of the park. Our first morning we opened the curtains to a herd of bison roaming outside of the cabin. We also saw deer, big-horn sheep and a tarantula within Zion, and rode horses at the ranch.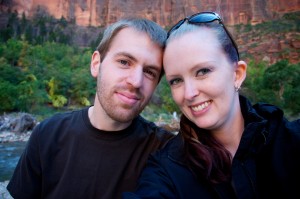 After Zion we rejoined civilization for a rest-day in Cedar City, enjoying some mexican food and swimming in an indoor pool, before heading off to Bryce Canyon for 2 days. We hiked down into the canyon, and drove to all of the park's viewpoints to see the beautiful hoodoo rock formations.
The last leg of our trip included seeing the Cirque Du Soleil watershow "O" at the Bellagio in Las Vegas. It was an amazing show with a nice mix of acrobatics and aquatic tricks.
We're now home decompressing from such a busy week, but we are really excited to put our new gifts to use in our house, and are enjoying life as newlyweds. A huge thank you to everyone that helped make our wedding a success, and we hope everyone had a lot of fun!