Last Saturday, me and my mom drove to New York City to meet up with my maid of honor, Jennifer, to look for wedding dresses. It was kind of a shlopped together trip as I had suddenly realized that I should probably start looking for dresses the week before. What can I say? I was pretty apathetic towards the whole thing because I knew it would just have to be another hard decision I would have to make.
My mom and I drove up to the city in her Toyota Camry and it was the first time it or I had ever driven in the city. I have to say, it was not bad at all. The roads are wider in New York City than in Philly so it was pretty easy before 10 am on a Saturday. We found Jen's apartment easily and, due to construction around her place and the built up snow, it was easy to find a nice secluded spot in front of her building – win!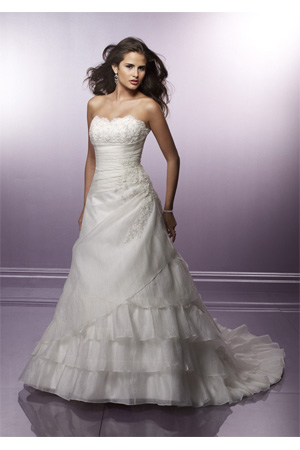 After perusing Jen's new NYC apartment and delivering her my television from Scott & I's old apartment, it was off to the races! First stop: Cymbelines. We ended up being a tad late for our 11 am appointment (thank you, New York City subway) but it turns out the store was not very busy and is actually located on a secluded second story of a building you must buzz to get in to. The elevator doors opened and there were your happy assistants – perky and ready to take your coats and get you something to drink. I felt like a princess.
I tried on four dresses at Cymbelines. My assistant, Renee, was as helpful as could be. She got me shoes to wear and stuck different veils on me. It was the first time ever trying on all this garb and I started to get a little bit more excited about it.
At the end of the visit my mom and Jen were googly eyed over the first dress I had tried on. I was not as stricken with it however. It was extremely gorgeous but well in to four figures in price, which I had no intention on spending on a wedding dress. I calmed them down and, after putting the dress on hold until 5 pm, left the store for our next location.
Next stop: R & K Bridal. We ended up taking a cab there but, as I've come to know well now, never take a cab around the backside of Madison Square Garden. It is horrendous!
Anywhos, upon determining which door to go in, we were greeted by a zillion teeny boppers (it is also a prom dress store) and were promptly told to take off our shoes. Well of course my mom would have none of that (shoes stay on my mom at all times) so Jen & I figured we'd take a quick look around and see if this place was worth our time.
They had some great brands there and some nice dresses on display but the organization was ridiculous. All of the dresses were hanging on racks in bags and there was no catalog to look through so it was every (wo)man for herself in a sea of white. In order to get a fitting room you would have to put your name on the list and wait. When I looked at this list it was 20 names long! Needless to say, Jen and I did not hang out long before reuniting with my mom to get some lunch. Food is very important to me.
At this point in the day we had no other appointments in the city and I was starting to get antsy to try on dresses I could actually afford since I had had a taste earlier that morning. So the group decided we would head out of the city to the 'burbs where Jen's family lives and two stores awaited: David's Bridal and Camille's.
I called ahead for an appointment at David's Bridal but my skills of timing out the trip ended up to be a little off as we arrived a whole hour early for my appointment (I mean, I know I'm a quick driver but sheesh!). The people there were really casual though and we said we'd look at bridesmaid stuff and colors instead. So we all looked at the bridesmaid dresses and colors. Scott & I had been thinking orange but the persimmon color they had there seemed absolutely atrocious in person. It also would most definitely not work with Jen's hair color and complexion.
So thus we moved on to the color I liked from the beginning: purple. 🙂 The catalog we got that had bridesmaids dresses in it had fantastic purple dresses with very cute underslips with coordinating colors that were absolutely adorable. I immediately went to my secondary idea of orange and purple. Ultimately we think it can work if we're careful about the hues.
After about 45 minutes of using sticky notes to mark dresses I liked in their catalog and looking at colors and bridesmaids dresses, a woman decided to take me early. Her name was Chika and she was great! I was a bit disappointed to start off because she told me that a lot of the dresses I had marked off in the catalog they did not have in my size (seriously?). She also attempted to make me where this big poofy slip thing that I was just not having. After those initial bumps in the road though we really got going.
She put me in a dress that I hadn't picked out of the catalog but was similar and it was pretty rockin. Next came one that was really poofy at the bottom that I had picked out from the catalog but because it had a higher waist I looked really chunk (um, no, not happening on my wedding day). The third dress I put on though was amazing!!! It was one I had marked off in the catalog and had this great detail work done on the front of it. It also fit like a dream *and* was in my price range. I wore it around the store for quite some time as Chika was generous enough to let me romp around in it as we looked at tons more dresses on the racks. She wanted to make sure that no dress could compare to the one I had on and then we would know that we found the one. Jen and my mom also loved the dress and agreed with Chika that I in no way would have to get it altered (hello money savings?).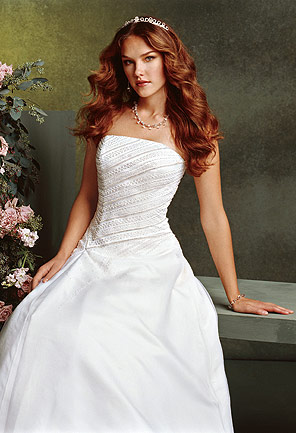 Ultimately the crew and I decided to leave David's Bridal to "think about it" and move on to Camille's. I wanted to make sure that I gave Camille's a chance since Jen had grown up next to this dress store practically her whole life and idolized it so much. I certainly didn't want to skip over it and not give her the chance to check out the bridal section! After stopping off at Jen's house briefly to pick up her younger sister, Donna, we headed over to the mall where Camille's is located. We were told when we called ahead that no bridal consultants would be working this night but that we could try on the dresses anyway. In a way I was relieved that I wouldn't have to be prodded by a salesperson.
When we got to the mall there actually was a woman kind of watching over the dresses in the bridal department at the back of the store. She was foreign and hard to understand but promptly told me I could only try on three dresses without an appointment with a bridal consultant. She was nice enough but I did actually end up trying on four dresses. :-X Don't tell her! The dresses there were really nice and a bunch of them were corset dresses, which, quite frankly, I look phenomenal in. None really were as magical as the dress I saw at David's Bridal though.
What's next for dresses? Well, I'm probably going this weekend to look at Alfred Angelo. I like their dresses because they have quite a few options with color and I initially wanted a dress with color. After that I was hoping to hit David's Bridal again with my other bridesmaid, Kim, but that scheduling is yet to be determined…